Heel Pain Center of Kansas City
The Heel Pain Center of Kansas City is a specialized extension of Kansas City Foot and Ankle. We designed the Heel Pain Center of Kansas City around our physician's expertly focused approach to the diagnosis and treatment of heel pain. Heel pain is a very common and often debilitating problem that is easily treatable given the right combination of expertly trained physicians, a wide variety of state-of-the-art treatment options, and a team dedicated to getting you comfortable as quickly as possible.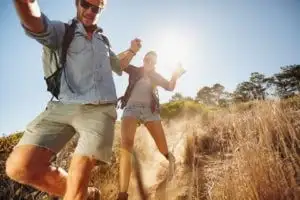 With our specialized training and advanced diagnostic technologies including in-office digital x-rays and diagnostic ultrasound, our doctors can quickly diagnose the cause of a patient's heel pain and offer the latest proven treatments to customize a plan of care that fits each patient's individual needs and lifestyle.
Our podiatrists are five of the most trusted heel pain specialists in Kansas City. Our doctors have a strong personal interest in the treatment of heel pain because it is one of the most common causes of foot pain in the community. We treat patients of all ages including kids with Sever's Disease and Achilles Tendinitis, to adults with plantar fasciitis, heel spurs, and stress fractures.
Our doctors utilize advanced in-office treatment technologies such as Extracorporeal Shockwave Therapy (ESWT), musculoskeletal laser, injectable growth factors, and the latest technology in custom orthotics.
Our goal is to get you back to your active lifestyle quickly and comfortably.
You don't have to suffer from heel pain. Click on this link or call our office today to schedule an appointment 816-943-1111.