Dr. Michael Johnson - Expert DPM at treating foot pain, heel pain, ingrown nails, fungus toes, arch pain, ankle pain, diabetic issues, and more.

Michael Johnson, DPM
Kansas City, MO Podiatrist
Kansas City Foot and Ankle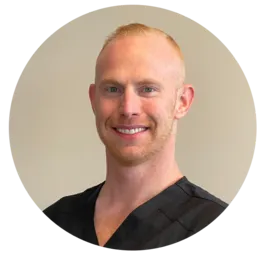 Dr. Johnson grew up in Overland Park, Kansas, and graduated summa cum laude from the University of Central Missouri, double majoring in Pre-Medical Biology and Psychology. He earned his medical degree at Des Moines University before completing a 3-year surgical residency in Rockford, Illinois. Dr. Johnson practices in the north and south offices.
Dr. Johnson is certified in Reconstructive Rearfoot and Ankle Surgery and Foot Surgery. He takes a patient-centered approach to care, working alongside each patient to find the right course of treatment, and offering surgical and non-surgical options.
Dr. Johnson is happily married. He and his wife, Lindsay, have 2 children and live in Overland Park, not far from where Dr. Johnson grew up. He enjoys swimming, reading, and the occasional round of golf.
"Everyone I encountered in this office was very nice. My appointment was with Doctor Johnson. He was very helpful and explained the issue with my foot. He gave me options to help correct it and took the time to answer all my questions, never making me feel rushed. I have been to this office one other time for a different issue and both times I was very satisfied with the care and treatment I received" -- ML
Serves patients at the South and North offices.