Advanced Technology
At Kansas City Foot and Ankle, our comprehensive scope of care is aimed at foot and ankle conditions affecting patients of all ages. We offer the most advanced treatment technology available and specialize in providing a personalized world-class experience to each and every patient.
Kansas City Foot and Ankle invests in the most advanced diagnostic and treatment technology available to ensure the very best outcomes and overall care for you and your family. Our physicians recognize that while there are many common foot and ankle conditions that we see every day, every patient has his or her own unique set of circumstances and lifestyle considerations when deciding upon an appropriate treatment regimen. As a result, we offer a variety of state-of-the-art treatment options to get you back on your feet quickly and comfortably.
---
Diagnostic Technology
Digital X-Ray - Kansas City Foot and Ankle houses state-of-the-art digital x-ray technology that allows our physicians to review real-time x-ray imaging to share with patients during their appointment.
Treatment Technology
Extracorporeal Shockwave Therapy (ESWT) – is a non-invasive in-office treatment for pain and inflammation associated with heel pain, foot pain and ankle pain. This state-of-the-art technology is clinically proven to reduce pain and restore mobility. The device uses high pressure acoustic waves of energy applied to the injured or painful area. The energy interacts with the damaged tissue to promote repair and regeneration. This is an effective treatment for long term relief of injuries such as plantar fasciitis, Achilles tendinitis, strains and sprains.
Musculoskeletal Laser – Musculoskeletal laser technology is FDA-approved for treatment of foot and ankle pain and inflammation. This non-invasive technology is very effective in the treatment of pain associated with plantar fasciitis (heel and arch pain), Achilles tendinitis, Morton's Neuroma, gout, arthritis, as well as strains and sprains.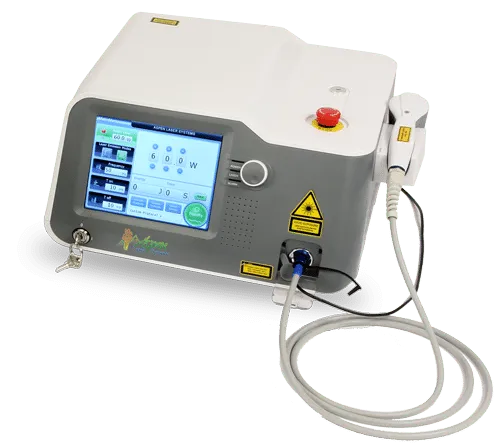 Fungal Toenail Laser Treatment – Our advanced laser technology offers a safe, clinically effective, painless treatment for fungal toenails. With this laser technology, you can avoid the hassle of every day applications of lotions and potions, as well as the potential side effects of oral anti-fungal medications. Treatments take less than 10 minutes.
Advanced Custom Molded Orthotics – The latest technology in custom orthotics. The individualized and sturdy design of our custom-molded orthotics realigns the foot to a neutral position to alleviate foot, leg and back pain. They also restore balance, improve sports performance and relieve foot fatigue.