Dr. Brian L. Ware_Expert DPM treating foot pain, heel pain, ingrown nail, fungus, arch, ankle, flat feet, and more.
Kansas City, MO Podiatrist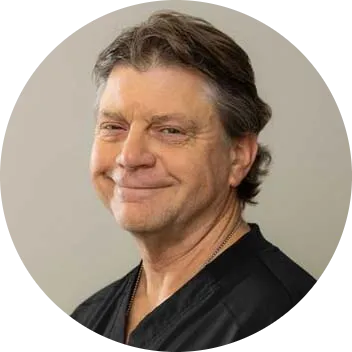 Dr. Ware joined, what is now Kansas City Foot and Ankle's Plaza office in January 2010. As a long-time Kansas resident, he attended Kansas State University completing a Bachelor of Science degree in 1987. He went on to graduate from the College of Podiatric Medicine and Surgery in Des Moines, Iowa. After moving to Kansas City, he completed a 2-year residency program focusing on general podiatry and surgery with an emphasis on trauma at Truman Medical Center

Dr. Ware has been practicing podiatry for nearly 20 years and is board-certified in podiatric medicine and reconstructive foot surgery by the American Board of Podiatric Foot Surgeons. Dr. Ware is an avid runner and excelled in cross country at the college level. His running experience gives him a keen insight toward treatment of a variety of foot, heel, and ankle problems associated with a variety of sports. Dr. Ware enjoys spending time with his wife, Krista, and kids, Blake, Trevor, and Klarissa. He plays golf and still makes time to compete in local marathons and triathlons.
"My experience was amazing. The staff is very warm and friendly. Dr. Brain Ware is awesome and very personal. I feel everyone is great." - JJ

Serves patients at the Country Club Plaza Office.