Dr. Jason Anderson is the guest on the international podcast, "You Just Have To Laugh."
Author: Kansas City Foot & Ankle posted: Apr. 11, 2023.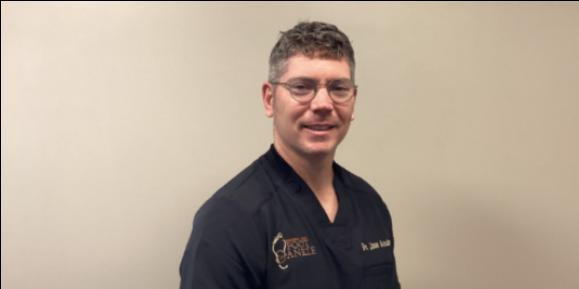 Podcast "Getting on the good foot" with Dr. Jason Anderson
Our own Dr. Jason Anderson was interviewed by host, David Naster, for the international podcast, You Just Have To Laugh."  
(Available on Apple Podcasts, Castbox, Google Podcasts, Overcast, Pocket Casts, RadioPublic, Spotify, Stitcher, and Copy RSS)
 'Getting on the good foot' with Dr. Jason Anderson an expert on Foot and Ankle conditions.
Episode Description:
When your feet hurt life isn't good and Dr. Jason Anderson joins us to make your life better with this fun and informative podcast. Jason is a fellowship-trained, board-certified foot and ankle surgeon who also provides comprehensive care for all foot and ankle conditions. Dr. Anderson discusses some of the most common conditions relating to foot and ankle problems including sports injuries, fractures, tendon tears, sprains, arthritis, flat feet, bunions, and both diabetic and non-diabetic wounds. Dr. Anderson prides himself on building strong, trusting relationships with his patients.
Jason has a great sense of humor as he told us in his spare time, he enjoys hunting, archery, mountain biking, and long walks on the beach! Which can be a big challenge when living in the Kansas City area. 
About You Just Have To Laugh, featuring David Naster
YOU JUST HAVE TO LAUGH (YJHTL) David Naster learned and survived how to make a living as a professional comedian. Then the comedian learned how Humor and Laugher help us to survive. For over 44 years Naster has interviewed hundreds of real people that are really funny in situations that are NOT funny. The YJHTL's podcast intentions are to entertain and inspire how humor can help you through any Tough Time you may endure. Each week we will offer real people who are really funny that have found joy and laughed through their real problems.
For other episodes:  You Just Have To Laugh Home Page
Category: achilles tendonitis,&nbsp American Diabetes Association,&nbsp Ankles,&nbsp Arthritis,&nbsp Foot Care,&nbsp Foot Conditions,&nbsp Conditions and Diseases,&nbsp flat foot,&nbsp foot injury,&nbsp Lee's Summit,&nbsp podiatrist,&nbsp Podiatry
Tags: podcast,&nbsp laugh,&nbsp Anderson,&nbsp David Naster,&nbsp You Just Have To Laugh