Healing Diabetic Wounds
Author: Stephanie Jameson posted: Dec. 13, 2017.
Why hasn't this wound healed?
Diabetic foot wounds are very unpredictable, and they can be very hard to heal.  They are often a combination of poor circulation, lack of sensation to the feet, and pressure from shoes. Due to peripheral neuropathy, diabetic ulcers may form on the feet but are never felt.  This situation runs the risk of a wound becoming much worse before one seeks medical attention.  Bleeding or drainage may need to occur for the would to even be noticed.  And wounds can worsen very rapidly.  Therefore, it is imperative to see a wound specialist, such as a podiatrist, as soon as possible.  Our podiatrists at Kansas City Foot and Ankle have a vast amount of knowledge in healing wounds quickly!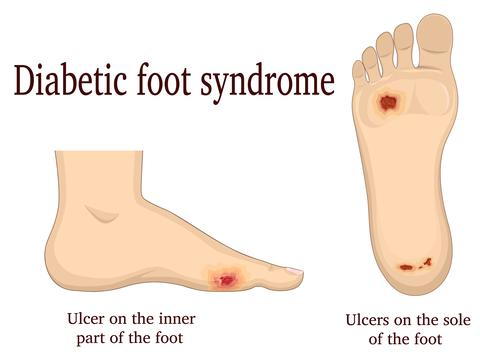 There are a lot of rules about wound healing.  Some of these include:
#1 – Don't soak a wound – There are many types of would where soaking makes them worse.  (Ingrown toenails, on the other hand, may heal more quickly with soaking).
#2 – Most deep wounds will not heal on their own – These will require a specialist's intervention.
#3 – Don't use peroxide on a wound – It is too harsh and can cause irritation and be caustic to the wound.
#4 – Apply a dressing to the wound – Leaving a wound open to the air is not good.  Placing a dressing on a wound can help prevent bacteria from entering into it and causing additional problems.
#5 – Blood glucose – If you have diabetes and your blood glucose is under control, you can still get a wound that has the potential to become infected.
#6 – Check for infection – Infection may be difficult to diagnose by an untrained eye.  A podiatrist is a specialist who can diagnose an infection by analyzing a wound's size, tissue quality, and depth.
#7 – Don't make your own dressings at home – Instead, seek out specialized wound care products that are made specifically for your particular wound.

Kansas City Foot and Ankle
Kansas City Foot and Ankle takes wounds very seriously. We will make every effort to schedule your appointment asap.  Seeing a well-trained podiatrist as soon as you notice something wrong will help on many levels.  Your would will likely heal more quickly.  And you may avoid hospital admission, surgery, and at worst, amputation. Our physicians are specialists at preventing and treating infections, removing the pressure to areas of wounds, and promoting wound healing by removing dead tissue.  Additionally, we can provide medications and wound dressings that promote healing.

The American Diabetic Association has guidelines for how often diabetic patients should visit a podiatrist for preventative foot checks. Most people don't know this, but our podiatrists at Kansas City Foot and Ankle know the ADA guidelines well!  Routine foot care will help to aid in avoiding diabetic foot and ankle complications.  If you have a diabetic wound or any type of foot or ankle wound, please call us at 816-943-1111.  By seeking medical attention from one of our trained podiatrists, you lower the chance of complications and reduce the risk of amputations due to complications from foot wounds!
Category: Blood sugar,&nbsp diabetes,&nbsp Diabetes mellitus,&nbsp diabetic foot issues,&nbsp Kansas City podiatrist
Tags: foot ulcers,&nbsp Diabetic wounds